Spooky season is upon us, and it is time to make your kiddos dream of becoming an astronaut, globe-trotting adventurer, or big time rockstar come true! We've come up with some fun and easy costume ideas that will put a smile on your child's face and keep them warm this Halloween season.
DIY Gnome Costume
Everyone has seen the Disney movie Gnomio & Juliet and let's be honest, who wouldn't smile opening up their door on Halloween night to see a little gnome saying "trick-or-treat"! This easy costume idea will keep your kiddo all bundled up and doesn't involve an expensive trip to Target. All it takes is a long, single-color sweater from home, some construction paper, a belt, a pair of boots, and a makeshift beard. With some creativity, and a little bit of crafting, you will have a little gnome running around the yard in no time!
Bonus points if you're willing to test out your crocheting skills.
Lia Griffith; DIY Gnome Costume; Web; https://liagriffith.com/diy-gnome-costume/
Check out this tutorial for creating your crochet beard and gnome hat: Gnome Costume Tutorial
Dandelion Costume
If you've got a kiddo that loves the outdoors and likes more adventurous costumes, you can create a bold and fun dandelion costume. Depending on your creativity and the amount of time you have to spend on costumes, there are different ways you could make this into a fun look. Whether your child wants to become the dandelion themselves, or wave it around like a wand, there are a few tutorial videos for you. Whatever you may choose, all of these fun crafts will be sure to make a costume that your child will remember forever!
Brooke Powell; Dandelion Halloween Costume; Web; https://www.pinterest.com/pin/380554237246775256/?nic_v3=1aUwnTmwI
Check out this paper dandelion tutorial: Paper Dandelion
Check out this dandelion hat tutorial: Dandelion Hat Tutorial
Weatherman/lady Costume
Does your child love comedy and still need a quick and easy Halloween costume? We've got the perfect idea for you! With a cheap umbrella, tie/scarf, and makeshift microphone, your little one will "blow away" family and friends with their windy weatherman/lady costume. This one is super easy and will bring the laughs to anyone your child may encounter!
Ashley Johnston; 2019; No-Sew Weatherman Costume; Web; https://makeit-loveit.com/wp-content/uploads/2019/11/how-to-make-a-no-sew-weatherman-costume-2-800x1200.jpg
Check out this article that will turn your child into a windy weather expert: Windy Weatherman/lady Costume
Kid President Costume
Maybe you're looking for a costume that includes both you, and your child? Using some cardboard scraps and a little creativity, you and your child can become a president and their bodyguard. Throw on some shades and official-looking clothing to create a fun and easy look. Together, you and your child can lead the Halloween festivities and stay close, as you hit the neighborhood for some trick-or-treating fun!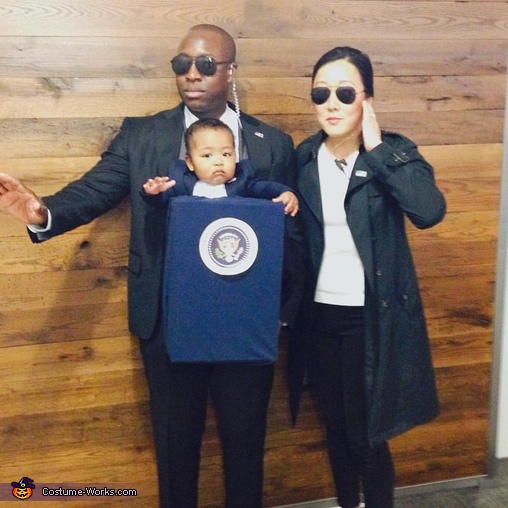 2017; President of the United States and Secret Service Costume; Web; https://www.costume-works.com/president-of-the-united-states-and-secret-service.html
Check out this cute father-son example: President and Bodyguard Costume
Hobbit Costume
Do you have a curly-haired cutie and love LOTR? It sounds like your kiddo would be able to play the part of Bilbao Baggins! This adorable costume can be made DIY, or could be put together with a small investment. Grab a cloak and some fuzzy shoes to pull together a quick and easy costume this Halloween.
Kelsey Janak; 2021; #SPOOKYWILDERNEST: OUR TRIPLET HOBBIT HALLOWEEN COSTUMES; Web; https://www.thewildernest.net/home/hobbit-halloween-costumes
Check out this kiddo rocking her Hobbit Halloween Costume: Hobbit Costume
We hope that we've been able to spark some creative Halloween costume ideas! As always, Pinterest is full of fun and creative ideas for your child and family alike.
Celebrate Halloween at Jam Hops
Looking for a kid-friendly place for your child to celebrate Halloween? Jam Hops is hosting both Preschool and School-aged Halloween Parties at our Blaine/Ham Lake location! Both parties will take place on Saturday, October 29th. Your 3–5-year-old children can join us from 3:30-5:00 pm for Open Gym, fun Halloween activities, and more! Have an older kiddo that wants to join in on the Jamtastic Halloween fun? They can join us from 6:00-10:00 pm for a costume contest, trick-or-treating, games, open gym time, and other fun Halloween activities!
Click HERE to learn more about the Preschool Halloween Party!
Click HERE to learn more about the School-aged Halloween Party!
Thank you for reading #Jamily!